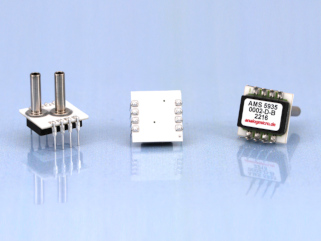 Portable, battery-powered devices are ever-present in our daily lives, but the trend in medical instrumentation and industrial measurement technology is also towards smaller, mobile end devices. Intelligent power-saving concepts and components are needed to enable these devices to run for as long as possible.
For use in battery-powered applications, Analog Microelectronics has developed the AMS 5935 18-bit board-mount digital pressure sensor. With their extremely low current consumption (250 nA in sleep mode and 2 mA during measurements) and supply voltage range of 1.7 V to 3.6 V, the AMS 5935 high-precision pressure sensors are perfect for battery-powered microcontroller applications. They have an integrated I2C / SPI interface, which can be used to read calibrated pressure and temperature values. Their extremely small measurement error at room temperature and the also very small total error in the temperature range of -25 ... 85 °C is achieved by a complex calibration and temperature compensation.
The AMS 5935 combine a high quality piezoresistive pressure sensing element with a signal processing ASIC in a ceramic DIL package for assembly on PCBs. Two package variants are available: one with vertical pressure ports for hose connection and one for O-ring sealing.
Multiple pressure ranges for various pressure types are available in the AMS 5935 series: differential (relative) pressure sensors in ranges from 0 ... 2.5 mbar up to 0 ... 100 mbar and bidirectional differential pressure sensors from -1.25 ... +1.25 mbar up to -100 ... +100 mbar.
The USB starter kit AMS 5935 is available to simplify first trials and evaluations using the sensor.
Further information:
AMS 5935's product page